Online nurseries offer an easy and efficient way to buy plants and they even deliver! When you buy plants online, you get to compare prices, find the best variety, research growing conditions, and learn about the plant's cultural requirements all from the comfort of your home.
Buying plants online is one of the easiest ways to find best and newest perennials, normally hard or impossible to find locally. Local nurseries have limited space for displaying plants, they often only carry a small selection of plants that are hardy, easy to care for, and which sell quickly. The newest plants from hybridizers like Terra Nova Nursery often take years, if ever, to become available locally.
When buying plants online, you can choose your plants from large reputable nurseries that carry many varieties or from nurseries that specialize in rare, hard-to-find plants. When you are browsing the different nurseries online, be sure to remember the common and botanical name of the plants that interest you, so you can compare shipping sizes and prices between retailers.
Many of the nurseries who sell plants from internet websites have years of gardening experience. You can benefit from their knowledge, they can both answer your questions and offer gardening tips. Whether you are an experienced gardener or a beginner, buying plants online can be a fun experience.
Most of the plants that you buy online will be shipped to your home at the correct planting time, all you have to do is have the planting site ready and waiting. If you have any problems with your order, all you have to do is contact the nursery. Actually, we have found on line nurseries easier to work with then local stores.
We actually buy very few plants locally, mostly as fill in plantings. It is unfortunately true that most local retailers just do not have the resources or expertise necessary to compete in todays ever changing plant world. We are always looking for the newest and best for the limited space we have. On line ordering just puts the world at your finger tips.
Tips of the Month
While most online nurseries are just as good if no better in handling your order in a safe and secure manner here are a few tips.
Shop at only secure web sites.
Research the site not just the plants.
Read all the sites ordering policies and procedures.
Never give out your social security number.
Disclose only the bare facts necessary.
Check the websites address, do not fall for Phishing Messages.
Always print off your orders.
Pay attention to the shipping information.
Read the sites cancelation, return, and complaint policies.
Flower of the Month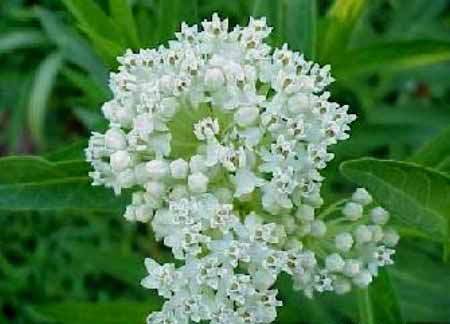 Asclepias incarnata 'Ice Balle'
White Swamp Milkweed has a common name that belies its beauty, this Swamp Milkweed has a showy white flower that serves as a canvas allowing butterflies to really stand out. And attract butterflies it will! 'Ice Ballet' may grow a bit taller than the unselected species, perhaps to 4-5 feet, and will be happiest in full sun and wet soils.
Web Site of the Month
They are a not-for-profit organization founded in 1827. Under the leadership of Jane Pepper, PHS provides great events, activities and publications for novice gardeners, experienced horticulturists, and flower lovers of all ages. Their Mission: The Pennsylvania Horticultural Society motivates people to improve the quality of life and create a sense of community through horticulture. Their Green Scenes Magazine is an excellent publication. Their Yearly Gold Medal Plant awards to often underused but exceptional plants is very useful to the discriminating gardener.