Written by Wayne on May 1, 2009 – 12:01 am
In Past Yard Talks we have talked about the red slicing tomato, cherry tomato, and the tasty Heirlooms. There are still a lot of varieties that are grown for other reasons. Some are grown for their long keeping qualities while others because they make good sauce or salsa. Some are designed for the apartment dweller or the patio.
Here are a few varieties that you may wish to try:














While you may not be able to locate all of these at your local nursery, they all can be purchased from seed at Burpee's, Johnny's Selected Seeds, or Territorial. These companies have been highlighted in past issues of Yard Talk and have links on our web site.
Tomato Tips of the Month
Making your own dried tomatoes is very simple and certainly is much less expensive than purchasing them at the grocery store.
The first thing is to pick the correct tomatoes, you want small meaty tomatoes for drying such as Fresh Salsa or one of the plum tomatoes.
Carefully wash and dry your tomatoes. Cut the fruits in half lengthwise, you can remove seeds if you like, but it is not necessary. Larger tomatoes should be cut into one inch slices. Cutting a slit in the skin side of the tomato will help accelerate the drying process.
Drain your tomatoes on paper towels and then place the halves skin side down on the racks of your dehydrator, leaving enough space between the pieces for the air to circulate. You can salt them at this time for a little more flavor and the salt will help to draw the liquid from them.
Drying tomatoes in your dehydrator may take from 6 to 12 hours, depending on the thickness of your slices.
To oven dry, place your tomatoes by putting them in single layers on wire racks. Your oven temperature should be between 140 and 150 degrees and prop the door open slightly. Oven drying will take from 12 to 24 hours. Do keep checking on them and remove ones that are done.
The tomatoes are dried when they are leathery, but non-sticky. They should not be hard and brittle or moist. The drying process will concentrate all the flavor in the juice.
Store your tomatoes in glass jars with an airtight lid, stored at room temperature in a cool, dark place. They will keep this way for up to 12 months before the flavor, nutrition and flavor will begin to decline.
To rehydrate your tomatoes, soak them for 5 to 10 minutes in hot water.
Here is one of our favorite uses of dried tomatoes:
Toasted Baguettes with Mozzarella and Sun-Dried Tomatoes

1 baguette
Olive oil
6 ounces thinly sliced or shredded Mozzarella
16 sun-dried tomatoes, drained
Basil leaves

Thinly slice the baguette and arrange them on a baking sheet. Brush the top side of each slice lightly with olive oil, then broil the slices until golden and toasty.

Spread each bread slice with a portion of the mozzarella, then top with a sun-dried tomato and basil leaf. Bake in 450-degree oven just until the cheese has melted, about 5 minutes.
 
Flower of the Month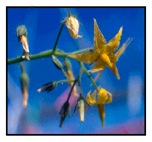 The Burpee Big Boy Tomato Flower is one of the prettiest of this plant species. It has a clear yellow shade darkening toward the center. We have found it very fragrant, attracting bees and other insects.


Featured Web Site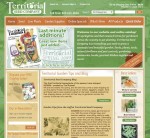 Territorial Seed has been serving the seed gardener for over twenty years, offering a wide selection of seeds. We were particularly impressed with its large selection of garlic sets, over ten varieties. Visit their site to see the results of the 2004 Great Northwest Tomato Taste-Off.


---