Hostas are an excellent perennial plant for shade gardens. Originally from Asia, hostas, are a herbaceous perennial primarily grown for its attractive foliage. These shade perennials thrive in low light and only get better with age as the clumps get larger and the variegated leaves become wider and the coloring becomes more intense, especially in the gold-toned cultivars. While they are easy to grow, there are a few things the home gardener can do to help them along.
While hostas can get along without fertilizing, we like to feed our established plants a balanced fertilizer in the Spring before the leaves have fully emerged. After the leaves have emerged, we recommend using a balanced water soluble fertilizer every month or so. If you use granular fertilizer after the leaves have emerged, try to ensure that none of the granules stick in the foliage as this will burn the leaves. Generally, a good overhead watering will wash the fertilizer off the leaves.
Hostas will tolerate a fairly wide range of soils. However, they prefer a well drained humus soil, the more organic material the better. We like to add compost to the beds every two years as we have a very heavy clay soil.
Spacing hostas does not really matter, we usually just let the plants size determine spacing. As a general rule, smaller varieties need to be planted closer together than the larger varieties. We like to plant our hostas as close together as possible to create a groundcover look. If you are more interested in a specimen garden, you will want to increase these spacings so that the individual plants can be seen.
While we have many clumps in our home gardens that have been undisturbed since 1989, most of our hostas have been divided and transplanted many times. This is primarily for aesthetic purposes but, if a hosta is not doing well in one location, it sometimes helps to move it. It is said that hostas should only be moved in the Spring but, we have found that they thrive no matter what the calendar says.
We divide clumps every two or three years to increase our stock. Try to salvage as much of the root system as practical. After the clump is dug, we wash the roots so that we can see where to divide. Most hostas have a basal plate of hard tissue between the foliage and the roots. Try to cut through only this basal plate area and avoid cutting off roots. We generally transplant immediately after division.
Hostas, in normal conditions can go for several weeks without water. Obviously, dwarf and small hostas with their shallower roots will need more frequent water than larger varieties. In addition, newly planted hostas, regardless of size, need fairly frequent watering until their root systems become established.
All that said, just remember, hostas are a very easy plant to grow and are very forgiving. This is why we have over 400 varieties growing everywhere, that and the fact that they look very good!
Tips of the Month
Hostas need a period of dormancy, brought on by colder weather and perhaps decreased light. While we prefer to leave the foliage undisturbed until late in the winter we know of a lot of homegardeners that remove the foliage as soon as it dies back. At that time, while the ground is still frozen, we rake off all of last season's decayed leaves, etc. In climates involving a frequent freeze/thaw cycle we recommend covering the hosta with a couple of inches of compost. Then in mid or late March before the leaves start to emerge, we gently rake off the compost.
Flower of the Month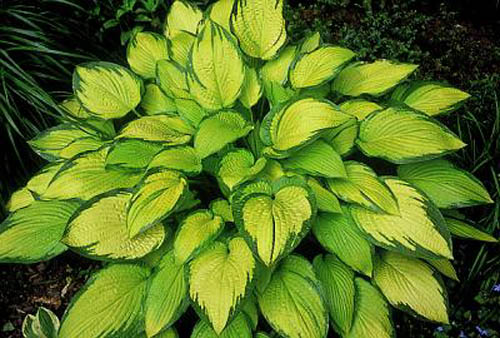 Hosta hybrid Paul's Glory
It is mutation from H. 'Perry's True Blue' has brilliant gold leaves with a wide blue edge. The dark golden leaves brighten to a white gold as the season progresses. These spectacular clumps are topped with light lavender flowers on 24″ scape in late spring. This is one of those rare hostas that stands out in any garden.
Web Site of the Month
It is one of our favorite sources of specimen hostas in all colors and sizes. We have been buying from them for several seasons and have always been happy with our orders. The plants have always arrived in excellent shape in the time frame that we specified. We look forward to receiving their yearly Plant List which offers many new introductions from some of the best hybridizers in the country. While they specialize in hostas, they do offer several other select shade garden perennials.