Small Trees for the Sunny Garden
When we purchased the property we had approximately an acre of open east facing hillside for sunny gardening. The rest was shade on three sides by very large Red Oaks and a rather boring under story of a, elm/ash/maple mix. We knew our sunny gardening was going to be very limited,
So what was the first thing we did after moving in? We started planting trees! Sounds crazy but what would a garden be without trees? We did not plant just any old trees thought after all, we did not need or want anymore shade. At least not more then was absolutely necessary.
To add color and four season interest, our first addition was a beautiful Concolor Fir 'Abies concolor', with its striking shades of blue and green. This was quickly followed by the graceful White Pine 'Pinus strobus' and a majestic Douglas Fir 'Pseudotsuga menziesii. Many other more demur conifers quickly followed. We might have made a few plants mad but the birds and other wildlife loved us.
We next planted several slow growing small to medium size trees such as the striking Chionanthus virginicus 'Fringe Tree' and Cladrastis lutea 'Yellowwood,' an interesting medium sized tree with an oval crown. As our focal point we choose the Gleditsia triacanthos 'Halka' Thornless Honeylocust with its numerous small leaflets, round wide-spreading growth, and open crown provides only light shade while adding form and texture.
For our final selections we choose several mid-size flowering fruit bearing trees again for their multi-seasonal color and fruit. Our first choice was Malus Hybrid 'Donald Wyman'
crabapple with its abundance of white flowers followed by shinny bright red fruit. Next we added Prunus armeniaca 'Sungold' apricot for its early spring masses of white or pink flowers covering the bare trees.
You just have to have a few trees in the sunny border garden. In our case we need the color and height that only trees provide. These are ones that worked for us but feel free to experiment just do not be afraid to add shade to the sunny border.
Tips of the Month
Here are a few other trees you may wish to consider:
Pyrus calleryana 'Callery Pear' grand white flowers in early spring offer outstanding beauty.
Prunus incisa 'Snow Cloud' Cherry is a three-season wonder with myriad pink flowers in spring, gorgeous foliage all summer, and black fruits in fall as foliage turns yellow.
Metasequoia glyptostroboides 'Ogon' Gold Dawn Redwood's golden foligae really brigthens up the garden.
Zelkova serrata 'Green Vase' Japanese Zelkova is a underused specimen tree.
Pyrus ussuriensis 'McDermand' Ussurian Pear develops into a dense, round-headed small to medium sized tree with an excellent spring floral display.
Flower of the Month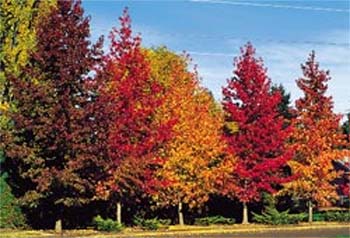 Liquidambar styraciflua 'Rotundiloba'
Sweetgum has long been recognized as a superb deciduous shade tree for its rapid growth, handsome foliage, and excellent fall color. Fall color varies annually but is always outstanding, often including yellow, red, and purple all on the same tree. Easily grown in any moisture-retentive soil, Rotundiloba withstands stress and urban pollution.
Web Site of the Month
They are a nursery for the home gardener offering an extensive collection of rare and unusual shade trees, flowering trees and shrubs, conifers and evergreens. We have always found this on-line site to be very helpful and informative.