Small Perennial Plants for the Shade Garden
Deciding the actual plants to use in a small garden is more than a personal preference. You need to consider the cultural environment, amount of sunlight, soil conditions, moisture, maintenance, and surrounding plants. Since this is a small space garden, maintenance will be less intensive. Also some consideration should be given to how to achieve a good visual effect.
That said, we feel the main problem when selecting plants for a small sized garden is how to pick out just a few from a long list of plants. Since your space is limited, every plant counts. Here are a few plants we recommend be incorporated into your small garden.
The list could go on and on as there are just so many excellent plants out there with more being developed yearly. We intentionally did not mention hostas or primroses as these are subjects unto themselves. In Fact, we were not going to include any epimediums, since so much is happening with them in recent years, but no garden should be without a few of these fine plants. We hope to cover these developments in a future Yard Talk.
Tips of the Month
The following are some general guidelines to follow in selecting plants.
Choose plants that have a desirable flower color and foliage.
Know the potential size of the plant in order to fit proportionally within the garden.
Select plants that bloom throughout the growing season.
Determine the amount of sunlight in the garden area and select plants that will thrive with that amount of light.
Select plants that will grow well in the soil condition of the garden area.
Look for healthy plants that appear vigorous.
Choose plants that all have the same water requirements.
Avoid plants that attract insects or disease problems in your area.
Keep in mind that some flower colors may not compliment other flower colors.
Flowers of red, pink, blue, and purple are "cool" colors and will soften a garden. Flowers of orange and yellow are "hot" colors and will brighten a garden.
Flower of the Month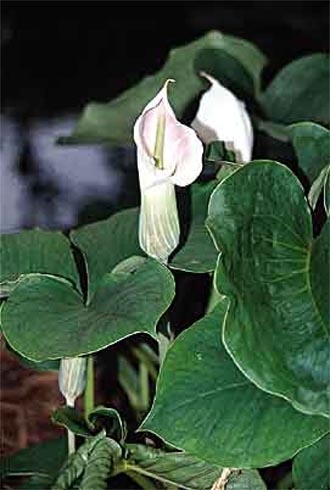 Arisaema candidissimum
Cobra Lily emerges in very late spring with 1 foot tall stalks of pink pitchers which are dramatically striped with translucent, white vertical veins. Alongside the flower, emerge two giant three-lobed leaves, which can reach 2 feet in width. A. candidissimum offsets freely in a well-drained site in the garden.
Web Site of the Month
Found in Atlanta, Georgia, is truly a great source for quality hostas. While their selection is somewhat limited, they have most of the top quality specimen hostas. Their web site has excellent quick loading graphics which makes viewing and selection easy.