Written by Geoff on December 1, 2004 – 8:24 pm
Christmas is a season of cherished family traditions and memories. Whether the traditions center on the birth of the Christ Child or other secular activities, Christmas is a time of reflection and celebration. Christmas is a time for family, friends, and sharing, be it as simple as a kind word, a Christmas card or note, or a box of home-made cookies.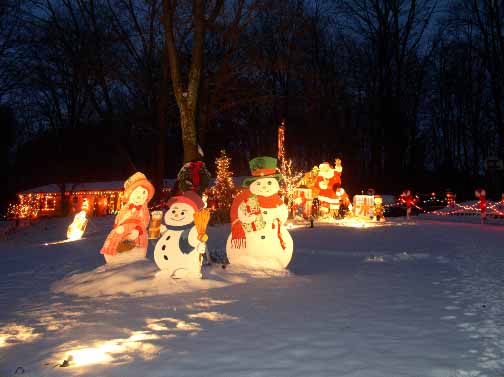 Last December we talked about our families traditions, sharing our treasured moments with you. Each season we build upon those moments of warmth and joy. While all are important to us, selecting and decorating the Christmas Tree brings the warmest glow. Selecting just the right tree is a family event, we take our time and enjoy the moment. 
We have had live trees, cut trees, and now even an artificial one. Our trees have had short needles, long needles, and everything between. Do not be afraid to experiment with different species of trees, after all Cherry and Hawthorne trees were once very popular Holiday trees. Weeping Figs and Norfolk Island Pines are often used today as Christmas Trees. Table top trees have become very popular in the past few years. These are great for the young family starting out or the senior citizen, being easy to decorate and ideal for the small home or apartment. 
Some of the most popular evergreens used as Christmas Trees according to the University of Illinois Extension Service are: 
Deodara Cedar – Cedrus deodara 
– Short, bluish-green needles; branches become pendulous at the tips. 
Eastern Red Cedar – Junirperus viginiana 
– Leaves are a dark, shiny, green color, sticky to the touch and has good scent but can dry out quickly, lasting just 2-3 weeks, a southern Christmas tree. 
Leland Cypress – Cupress ocyparis leylandii 
– foliage is dark green to gray color; has upright branches with a feathery appearance and light scent, good for people with allergies. One of the most sought after Christmas trees in the Southeastern United States. 
Balsam Fir – Abies balsamea 
– Short, flat, long lasting needles that are rounded at the tip with a nice, dark green color with silvery cast, very fragrant. 
Douglas Fir – Pseudotsuga menziesii 
– Good fragrance, holds blue to dark green, the needles have one of the best aromas among Christmas trees when crushed. 
Fraser Fir – Abies fraseri
– Dark green, flattened needles with good needle retention, nice scent; pyramid shaped strong branches which turn upward. 
Grand Fir – Adies grandis 
– Shiny, dark green needles, the needles when crushed, give off a citrus smell. 
Noble Fir – Abies procera 
– Bluish-green needles with a silvery appearance, it has short, stiff branches which are great for heavier ornaments, keeps well. 
Concolor Fir – Abies concolor
– Blue-green needles with a nice shape and good aroma, good needle retention. 
Afghan Pine – Pinus oldarica 
– Soft, short needles with sturdy branches with a open appearance and mild fragrance, keeps well. 
Austrian Pine – Pinus nigra 
– Dark green needles which it retains needles well. 
Red Pine – Pinus resinosa 
– Dark green needles , a big and bushy tree. 
Ponderosa Pine – Pinus ponderosa 
– Needles lighter colored than Austrian Pine and has good needle retention. 
Scotch Pine – Pinus sylvestris 
– Most common Christmas tree with stiff branches, dark green needles which it holds for four weeks, needles will stay on even when dry. 
Virginia Pine – Pinus virginiana 
– Dark green needles in twisted pairs with strong branches enabling it to hold heavy ornaments, strong aromatic pine scent, a popular southern Christmas tree. 
White Pine – Pinus strobus
– Soft, blue-green needles, which it retains throughout the holiday season, very full appearance. 
Black Hills Spruce – Pinus glauca var.densata 
– Green to blue-green needles stiff may be difficult to handle for small children. 
Blue Spruce – Picea pungens
– Dark green to powdery blue very stiff needles, good form, will drop needles in a warm room. 
Norway Spruce – Picea abies
– Shiny, dark green. Needle retention is poor but has a strong fragrance and nice conical shape. 
White Spruce – Picea glauca 
– Green to bluish-green, short, stiff needles which when crushed have an unpleasant odor, good needle retention. 
While I do not think we have ever had a bad Christmas Tree, the species we recommend are the Douglas Fir, Fraser Fir, Concolor Fir, and White Pine, all of which can be seen on our Plant Data base. We are trying a Black Hills Spruce this season and are very happy with it's shape and structure. 
Whatever species of tree you choose, make the selection a happy time, even your failures can bring fond memories. We still laugh about the tree we bought, when we were first married, that would not fit up the stairs to our top story apartment. We ended up throwing a rope out the front window and pulling it up. You can even make disposing of the tree an event. We decorate our old trees with treats for the birds and squirrels.
---