Selby Botanical Garden

Written by Wayne on October 1, 2009 – 12:01 am
Whenever we travel we make it a point to visit as many botanical gardens and nature centers as possible. I suppose this is only natural considering our interest in plants and gardening. We are sure some of our friends and family think we are strange, but then most people have a mistaken impression of what botanical gardens really are.
Most people think of botanical gardens as outdoor museums where plants bear labels with unpronounceable names. Fortunately modern botanical gardens are fun places devoted to the culture, study, and exhibition of living plants in a park like setting. While committed to developing, documenting, verifying, maintaining, sharing, propagating, and disseminating their plant collections they also offer a wide variety of activities. Most offer not only areas to simply stroll and relax, but also gift shops, picnic areas, wedding and banquet facilities, restaurants, and cultural events.
One of our favorite Winter time botanical gardens is the Marie Selby Botanical Gardens located right in downtown Sarasota, Florida. Named after Marie Selby who donated her Sarasota Bay home and grounds "to provide enjoyment for all who visit the Gardens" it is a great place to get some quiet time and enjoy the natural beauty of Sarasota.
You can stroll through the Tropical Display House with orchids and colorful bromeliads, wander the garden pathway past plantings of bamboo, under
ancient banyans, and through the mangrove along Little Sarasota Bay with spectacular views of downtown. You will find more than 20 individual gardens, complete with waterfalls and terraced walkways. Special areas include the Butterfly Garden, Koi Pond, Cycad Garden, and Baywalk.
An exciting open-air exhibit of more than 20,000 colorful plants, including a living collection of more than 6,000 orchids, many collected in the wild from tropical rain forests, can be enjoyed by young and old. In fact, the Selby Gardens maintains one of the finest collections of species orchids in the world for use in its programs of research, education, and display. There are rotating exhibits of botanical art and photography in a 1934 restored mansion, a café under the banyans, and the Rainforest Store, with gifts and tropical plants.
 The Marie Selby Botanical Gardens is a must-see for those garden enthusiasts visiting the Sarasota area. The Gardens are open daily 10-5, except Christmas. Admission includes all outdoor gardens, Tropical Display House, Plant Shop, Book Shops, and the Tree lab. All areas of the Gardens are wheelchair accessible and wheelchairs are available at no extra charge.
Tips of the Month
Some other botanical gardens which we have enjoyed and highly recommend are:
The Allerton Estate and National Tropical Botanical Gardens on Kauai, Hawaii  is a garden paradise extending over an area of more than 100 acres. The grounds were the mid-1800s summer cottage of Queen Emma, wife of King Kamehameha IV, and the former home of Robert & John Allerton. They have been returned to their former glory, as have the surrounding stately gardens. The Allerton Estate is managed by the adjoining National Tropical Botanical Garden, a non-profit organization that conducts guided tours of the estate.
The Florida Botanical Gardens offers a unique blend of native and exotic plants displayed in both natural and formal gardens. The site also has abundant wildlife from rare birds to native alligators. This was my first introduction to  palm trees which I will never forget. This is a must see visit for those in the Clearwater/St Petersburg area.
Secluded between rugged cliffs dropping down to a peaceful valley floor outside of Poupoi, Hawaii, the McBryde National Botanical Garden is a treasure house of tropical flora. Explore the unique bio-diversity of native and exotic plants,and see rare and endangered Hawaiian species and learn about the efforts to save them. Stroll through McBryde Garden's Bamboo Bridge section, visit the living laboratory where scientists are still discovering the secrets of these plants. 
Flower of the Month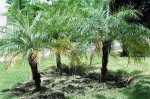 Phoenix roebelenii 'Pygmy Date Palm'
It is a small to medium sized palm to about 9 feet, although older plants can be quite tall. Has very attractive dark green feather leaves, and spined petioles. Not self cleaning, so old fronds need to be manually removed. Houseplant in bright light, container plant, or a palm for shady outdoor areas. Moderate growth rate, single trunk.
The stem is covered with old leaf bases and is topped with a dense head of rich green pinnate leaves that grow to about 4′ long. Delicate leaflets, arranged neatly along the upper length of the leaf lend the plant a very graceful aspect. Lower leaflets are modified into pointed 2-3″ spines that are very sharp.
Cream-colored flowers are held on short, 1′ infloresences (photo at right) and are followed by small black dates on the female plants (male flowers are borne on a separate plant). Although this palm is single-trunked it is most commonly container raised by nurseries in group of from 3 to 5 specimens. When grown like this the pygmy date palm makes an especially attractive specimen with the trunks tending to curve gracefully away from the center of the clump.
Pygmy date palm excels in containers of all kinds. Also looks great by patios and entry ways. Use clumps of these palms as specimens and to serve as focal point in a mass planting of annuals. Also nice combined with evergreen shrubs in a mixed hedge.


 
Web Site
Fontenelle Forest Nature Center in Bellevue, Nebraska offers visitors the opportunity to explore native plants and animals in much the same setting as out forefathers. Hiking their extensive trail system is like taking a step back in time. Our family spent many happy moments at this wonderful site.