iPhone in the Garden

Written by Wayne on August 1, 2010 – 12:01 am
Gardening information and information sharing has come a long way in a very short time. It use to be that the only way to share information was to write, telephone, or meet in person. Any search for additional information, called for a trip to the local library or university library. The high speed, electronic age of today has changed all that.
The computer and internet has put a wealth of information at the home-gardeners finger tips. What once took hours and days of research, could be found in minutes by anyone.
Garden societies around the world can now share information with each other instantly though emails, on line chatting, and blogging. University's data basis are now open to anyone who has a computer and on line connections. Todays laptops has made this information even more portable as you can bring the computer to the garden.
Even more so is the freedom Apple's IPhone brings to the garden. Now with your telephone you can look up information, take pictures, talk and text information to your friends, and even research plants and plant cultures as you work in the garden.
With over 85,000 apps on the IPhone you can find out anything you want in seconds, Want to know what that bug is eating your lilly or why your hosta looks sick? The answer is just a touch away. The world is truly in your palm.
Below are a couple apps we recommend:
Botany Buddy Apps is a tree and shrub finder, ideal for identifying plants in the field and selecting plants for a yard. This app is a collaboration of a veteran landscape designer and lifelong gardener, an innovative and creative technology team and a lifelong educator from Oregon State University. Botany Buddy is committed to building a growing community by providing them with online and mobile applications to bring users together with each other and the information they need to succeed. The app makes it easy to share images with as many "Botany Buddies" as you like. It is also great for home enthusiasts, nature lovers and garden clubs as well.
Garden Plants Database has over one thousand common garden plant names with detailed descriptions covering many common groups. This is an excellent pocket reference for farmers and gardeners, or anyone who is interested in learning more about gardening and plants. This app is a photo-based application showing a wide variety of garden plants, trees, and herbs, with horticultural and gardening tips. This application includes an advanced search for all garden plants. The top 150 plants are returned by the search engine. If you need a more finely-tuned search, simply add more terms into the search field. If you find plant data that needs revision, you can edit it using your on-screen keypad, or add your own interesting gardening data. You can also rate garden plants on a 5-star system. Once rated, the plant is much easier to access later since you can just tap on the "Top Rated" button in the "More" section at the bottom of the screen. It is truly amazing how far we have come in just a short time. Of course, this is only the beginning.
Landscaper's Companion is your reference guide to trees, shrubs, annuals, perennials, and all sorts of plants. Contains information for over 1400 plants and 5700 pictures. The only complaint is you can not save any to your favorites or what is in your landscape.
Tips of the Month
Here area few other Apps that we found to be useful:
Botanical Interests at Botanical Interests, our goal is to inspire and educate so that you can create beautiful and successful gardens. This application is designed to help you achieve that goal!
Lacavore iPhone app will come in handy next time you're at the market and want to know what's actually being grown near you, and what is most likely to taste the best right now.
iGarden helps you plan and track your personal vegetable garden by providing you recommended planting dates for your specific climate zone. It also provides recommendations on how you should plant the seeds. Once your garden has been planted, you can use the garden tracker to measure your garden's progress and prepare for harvest via the estimated harvest date.
Flower of the Month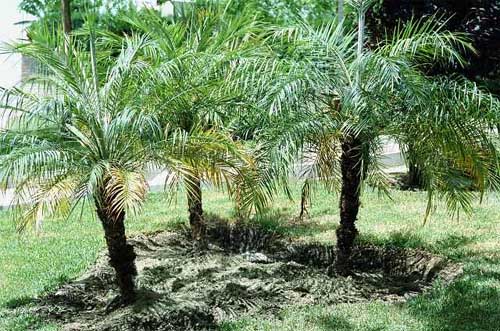 Phoenix roebelenii 'Pygmy Date Palm'
Feather Palm Small to medium sized palm, although older plants can be quite tall. Has very attractive dark green feather leaves, and spined petioles. Not self cleaning, so old fronds need to be manually removed. Moderate growth rate, single trunk. Pygmy date palm excels in containers of all kinds. Also looks great by patios and entry ways. Use clumps of these palms as specimens and to serve as focal point in a mass planting of annuals. Also nice combined with evergreen shrubs in a mixed hedge.
Web Site of the Month
They are like nothing you have ever seen on a mobile phone. Explore some of our favorite apps here and see how they allow iPhone to do even more. Let them become your gardening partner.